Treasure of Life series author, Allege illustrator Gary Vaynerchuk copied the work for VeeFriends
Responding to a tweet that influencer and entrepreneur Gary Vaynerchuk posted about his mother and what she taught him, Welsh author Karen Ritchie hit back.
"Hi, I'm Karen Ritchie, the lady whose photos you copied, where was the kindness, responsibility and empathy for a disabled retired nurse from the UK, I did my job for the benefit of the children that you help… oh yes GaryVee?"
the retort hasn't been seen by many.
@KarenRi36771033 has 22 subscribers against 3.1 million for Vaynerchuk.
Thanks to a detective on Twitter — @AG_NBA_ — the works of Ritchie and his illustrator Laura Love were juxtaposed with two of Vaynerchuk's VeeFriends, who had very similar names.
Of Ritchie and Love's 20 books in their Treasure of Life series, two matched – Determination the Dolphin is Determined Dolphin for VeeFriends. Gratitude the Gorilla is Gratitude Gorilla in Vee Friends.
Two other examples—Ritchie's Loyalty the Lion and Healthiness Horse—have notable image similarities to Vaynerchuk's lion and horse.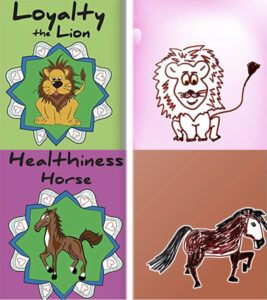 In all the drawings, Vaynerchuk's are all oriented the same way. The dolphin and the horse have a side profile and the gorilla and lion look straight ahead.
While Vaynerchuk's VeeFriends NFT original series made $537 million in sales, Ritchie is a retired nurse living off a pension. She told Action Network that she self-published and self-funded the books, but said she was in the red following the COVID closure of book fairs.
His books sell for $6.
Ritchie says she thinks it's highly unlikely that Vaynerchuk made VeeFriends without knowing about her and her illustrator's work. Although publication and sales were low, they can be found on Amazon.
"Common sense would have told him to use other adjectives, but his ego ignored it," Richie said.
Vaynerchuk said his lawyers carefully checked his designs and filed trademarks, which he says he has for the determined dolphin and the gorilla of gratitude.
Five months ago, two versions of Vaynerchuk's Gratitude Gorillas sold – one for $219,264, another for $162,601. At $537 million, VeeFriends is the 10th most valuable NFT of all time. But in the past seven days, its trading volume is 50th.
VeeFriends Series 2, released in April, generated $67 million in sales.
Illustrator Laura Love also thinks it's not possible that Vaynerchuk hasn't seen her drawings.
"Just drawing a gorilla with no reference and getting the right proportions of hands and face all at once is pretty smart, especially when he has human features," Love told Action Network. "As a designer or artist, you are looking for your project. A simple type in Google brings up Karen's books and my drawings. »
Ritchie, who is 56 and suffers from lung disease and chronic fatigue, and Love say their hands are tied because they cannot legally fight Vaynerchuk. Love, a former professional DJ, is a full-time mom graduating in graphic design this week.
"It would be nice if the right thing was done," Love said. "Who wants to buy NFTs that aren't original or genuine?"
For his part, Vaynerchuk told Action Network last week that the similarities between his VeeFriends and the books are a coincidence he's never heard of. Given the large number of characters, which are more than 280, it was no exaggeration, he said, that a couple could look alike.
Ritchie said: "Any exposure we can get for our books to be seen by children is really my heart. If people want, they can buy a book or two. I would be happier than him with his millions to see them reach more people.
How would you rate this article?