Photo Gallery: Indiana to Maryland
College Park, Md. — Indiana proved they could win on the road after beating Maryland 68-55 for Indiana's second Big Ten road win of the season.
For those who missed the game or just want to see the action inside the Xfinity Center in College Park, MD up close, check out 20 action photos from the Hoosiers' win over the Terrapins.
Indiana to Maryland
Thompson race
January 29, 2022; College Park, Maryland, USA; Indiana Hoosiers forward Race Thompson (25) shoots Maryland Terrapins forward Donta Scott (24) during the first half at the Xfinity Center. Mandatory Credit: Tommy Gilligan-USA TODAY Sports
Parker Stewart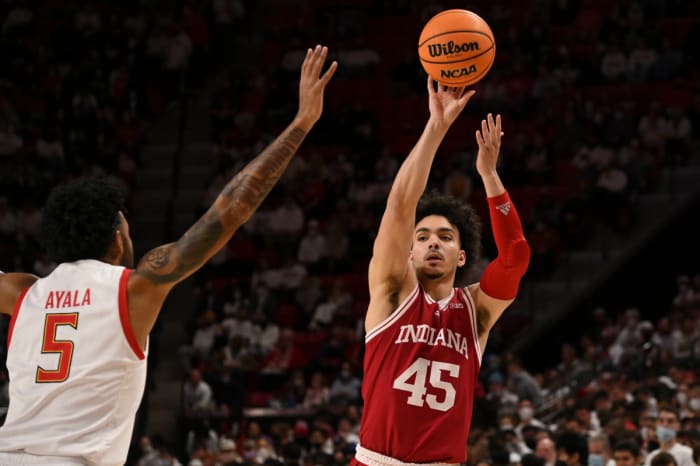 January 29, 2022; College Park, Maryland, USA; Indiana Hoosiers guard Parker Stewart (45) passes around Maryland Terrapins guard Eric Ayala (5) during the first half at the Xfinity Center. Mandatory Credit: Tommy Gilligan-USA TODAY Sports
Miller Kopp
January 29, 2022; College Park, Maryland, USA; Indiana Hoosiers forward Miller Kopp (12) takes an open shot at Maryland Terrapins guard Fatts Russell (4) during the first half at the Xfinity Center. Mandatory Credit: Tommy Gilligan-USA TODAY Sports
mike woodson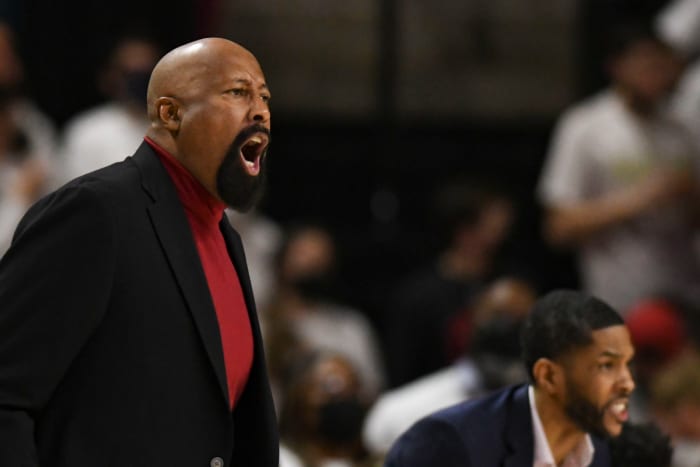 January 29, 2022; College Park, Maryland, USA; Indiana Hoosiers head coach Mike Woodson reacts during the first half against the Maryland Terrapins at the Xfinity Center. Mandatory Credit: Tommy Gilligan-USA TODAY Sports
Trayce Jackson Davis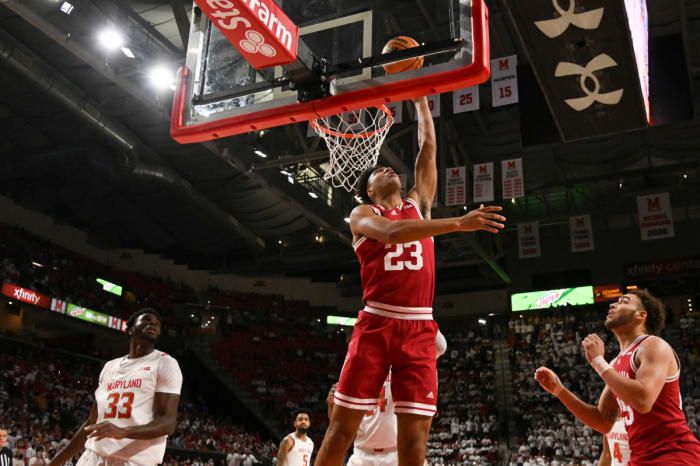 January 29, 2022; College Park, Maryland, USA; Indiana Hoosiers forward Trayce Jackson-Davis (23) shoots a layup during the first half against the Maryland Terrapins at the Xfinity Center. Mandatory Credit: Tommy Gilligan-USA TODAY Sports
Xavier Johnson
January 29, 2022; College Park, Maryland, USA; Indiana Hoosiers guard Xavier Johnson (0) dribbles past Maryland Terrapins guard Fatts Russell (4) in the first half duel at the Xfinity Center. Mandatory Credit: Tommy Gilligan-USA TODAY Sports
Trayce Jackson Davis
January 29, 2022; College Park, Maryland, USA; Maryland Terrapins forward Julian Reese (10) ndribbles as Indiana Hoosiers forward Trayce Jackson-Davis (23) defends during the first half at Xfinity Center. Mandatory Credit: Tommy Gilligan-USA TODAY Sports
Trayce Jackson Davis
January 29, 2022; College Park, Maryland, USA; Indiana Hoosiers forward Trayce Jackson-Davis (23) dunks during the first half against the Maryland Terrapins at Xfinity Center. Mandatory Credit: Tommy Gilligan-USA TODAY Sports
Miller Kopp
January 29, 2022; College Park, Maryland, USA; Indiana Hoosiers forward Miller Kopp (12) shoots a three-pointer during the first half against the Maryland Terrapins at the Xfinity Center. Mandatory Credit: Tommy Gilligan-USA TODAY Sports
Indiana to Maryland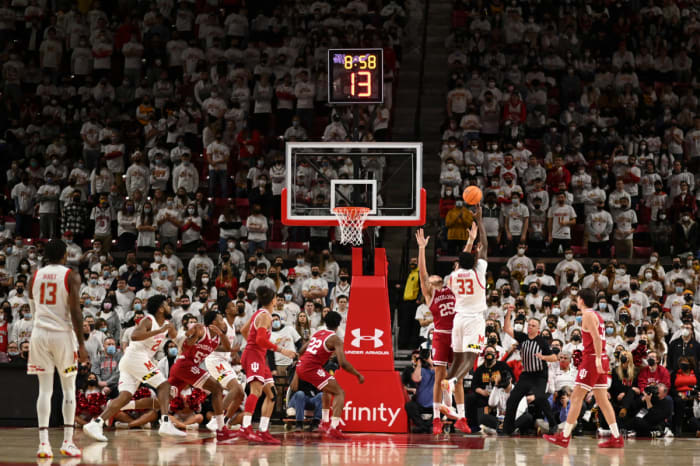 January 29, 2022; College Park, Maryland, USA; Maryland Terrapins forward Qudus Wahab (33) openly shoots Indiana Hoosiers forward Race Thompson (25) during the first half at the Xfinity Center. Mandatory Credit: Tommy Gilligan-USA TODAY Sports
Thompson race
January 29, 2022; College Park, Maryland, USA; Indiana Hoosiers forward Race Thompson (25) shoots in a first-half duel against the Maryland Terrapins at the Xfinity Center. Mandatory Credit: Tommy Gilligan-USA TODAY Sports
Trayce Jackson Davis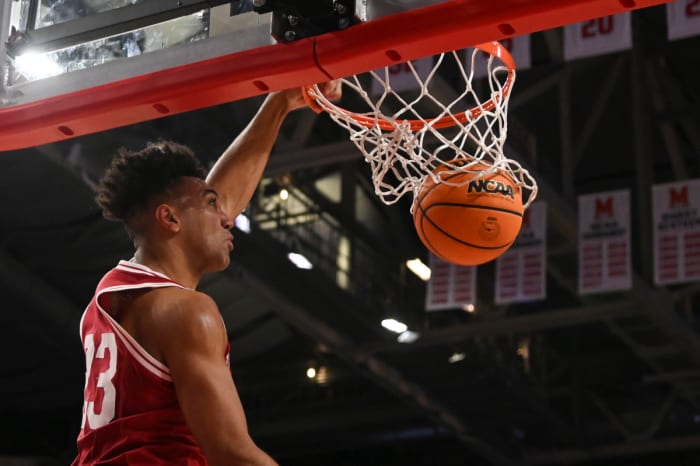 January 29, 2022; College Park, Maryland, USA; Indiana Hoosiers forward Trayce Jackson-Davis (23) dunks during the first half against the Maryland Terrapins at Xfinity Center. Mandatory Credit: Tommy Gilligan-USA TODAY Sports
Trey Galloway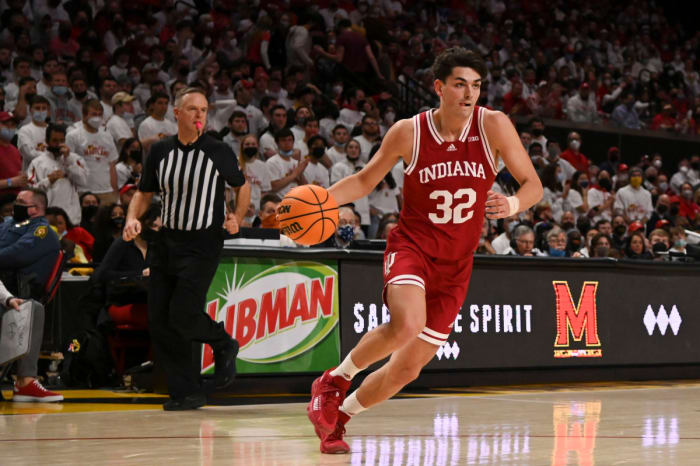 January 29, 2022; College Park, Maryland, USA; Indiana Hoosiers guard Trey Galloway (32) passes to the basket during the first half against the Maryland Terrapins at the Xfinity Center. Mandatory Credit: Tommy Gilligan-USA TODAY Sports
Trey Galloway
January 29, 2022; College Park, Maryland, USA; Indiana Hoosiers guard Trey Galloway (32) hangs on the edge after a first-half dunk against the Maryland Terrapins at the Xfinity Center. Mandatory Credit: Tommy Gilligan-USA TODAY Sports
Thompson Race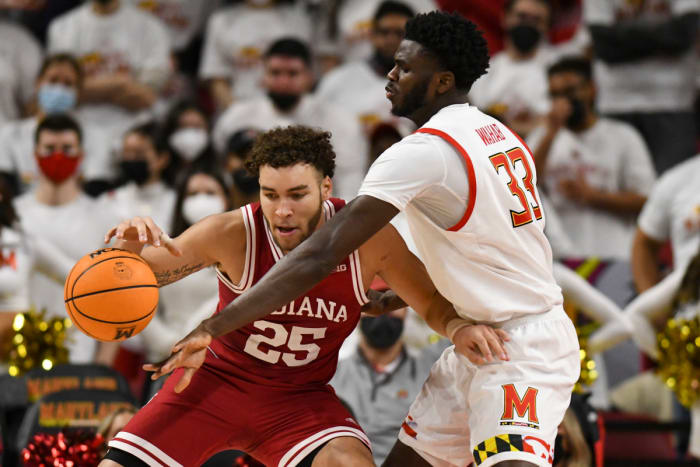 January 29, 2022; College Park, Maryland, USA; Indiana Hoosiers forward Race Thompson (25) dribbles as Maryland Terrapins forward Qudus Wahab (33) reaches for the ball during the second half at the Xfinity Center. Mandatory Credit: Tommy Gilligan-USA TODAY Sports
Xavier Johnson
January 29, 2022; College Park, Maryland, USA; Maryland Terrapins guard Fatts Russell (4) dribbles and Indiana Hoosiers guard Xavier Johnson (0) defends the basket during the second half at Xfinity Center. Mandatory Credit: Tommy Gilligan-USA TODAY Sports
Thompson Race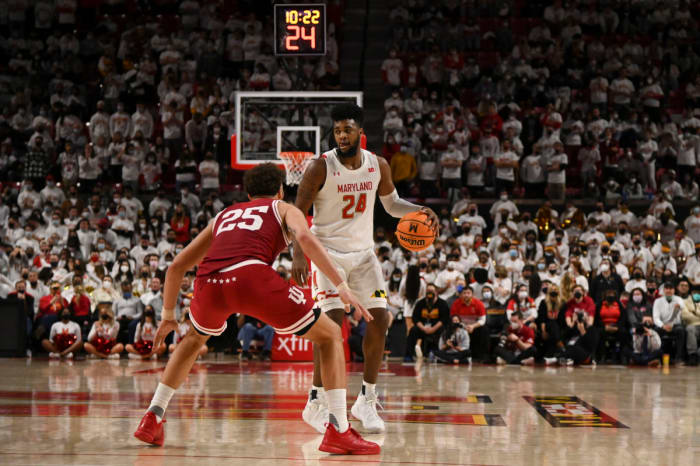 January 29, 2022; College Park, Maryland, USA; Maryland Terrapins forward Donta Scott (24) dribbles past Indiana Hoosiers forward Race Thompson (25) defends during the second half at the Xfinity Center. Mandatory Credit: Tommy Gilligan-USA TODAY Sports
mike woodson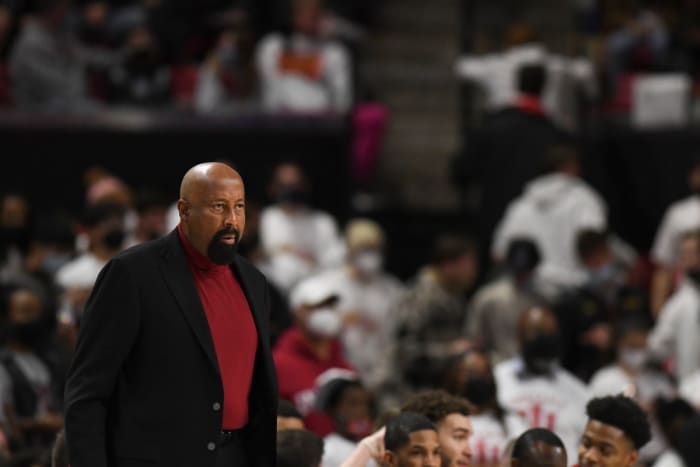 January 29, 2022; College Park, Maryland, USA; Indiana Hoosiers head coach Mike Woodson watches the field during the second half against the Maryland Terrapins at the Xfinity Center. Mandatory Credit: Tommy Gilligan-USA TODAY Sports
Trayce Jackson Davis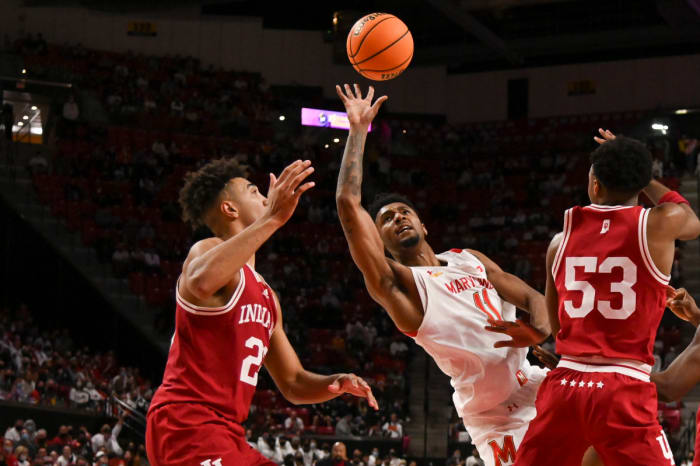 January 29, 2022; College Park, Maryland, USA; Maryland Terrapins guard James Graham III (1) shoots between Indiana Hoosiers forward Jordan Geronimo (22) and guard Tamar Bates (53) during the second half at the Xfinity Center. Mandatory Credit: Tommy Gilligan-USA TODAY Sports
Khristian Lander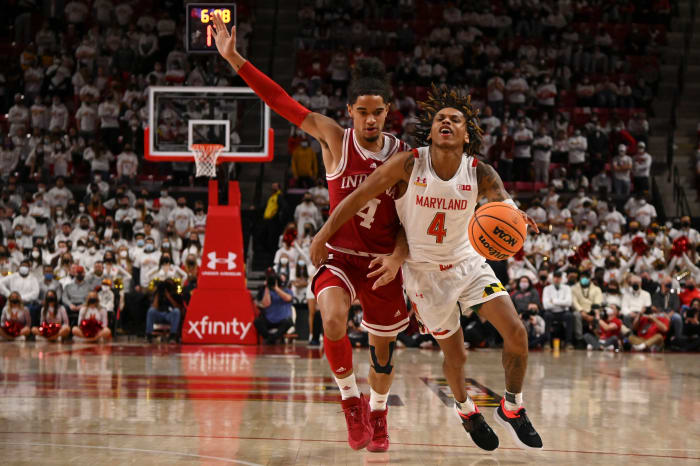 January 29, 2022; College Park, Maryland, USA; Maryland Terrapins guard Fatts Russell (4) reacts after colliding with Indiana Hoosiers guard Khristian Lander (4) during the second half at the Xfinity Center. Mandatory Credit: Tommy Gilligan-USA TODAY Sports
Indiana Basketball Related Stories
PLANTAR FASCIITIS OF ROB PHINISEE: Indiana senior guard Rob Phinisee said he is getting treatment for his injured right foot, but there is no timeline yet for his return. He discussed the injury and his game-winning shot against Purdue with teammate Xavier Johnson on Tuesday night's "Point Guard Podcast." CLICK HERE.
TOM BREW COLUMN: Saturday in Maryland was a special day for Indiana point guards Xavier Johnson and Khristian Lander, for very different reasons. It was something of a homecoming for Johnson, with some quality time spent with family. And for Lander, he was back on the pitch and contributing, which was very important to him as well as he is scratching his head to find a role on this team. CLICK HERE
BIG TEN ROUNDUP (February 1): Malik Hall scores a late field goal to lead Michigan State past Maryland on Tuesday night, helping the Spartans hang on after losing a 15-point second-half lead. Here's our roundup, with the schedule for the rest of the week. CLICK HERE